Jen Maxfield with her daughter Evelyn with Emma (in front), Piper and mom Allison Rosenberg. | Photos by Hillary Viders
Day of Service Efforts Provide Snack Packs For Kids in Need
ENGLEWOOD, N.J.—Center for Food Action's motto is, "Taking Action to Prevent Hunger and Homelessness," and on Sept. 11, it lived up to that credo with great zeal.
Close to 100 people of all ages came to the Englewood Field Club to assemble snack packs that will be given to children to keep them from going hungry.
As the nonprofit organization marked its seventh year of 9/11 Day of Service and Remembrance, 15,000 snack packs were assembled for children in need in Bergen County.
CFA's 9/11 snack pack event was chaired by NBC 4 "Today in New York" anchor and former CFA board member and founder Jen Maxfield. In the morning, she spoke at a CFA event on the campus of Bergen Community College and then hosted the Englewood event at 4 at the Englewood Field Club.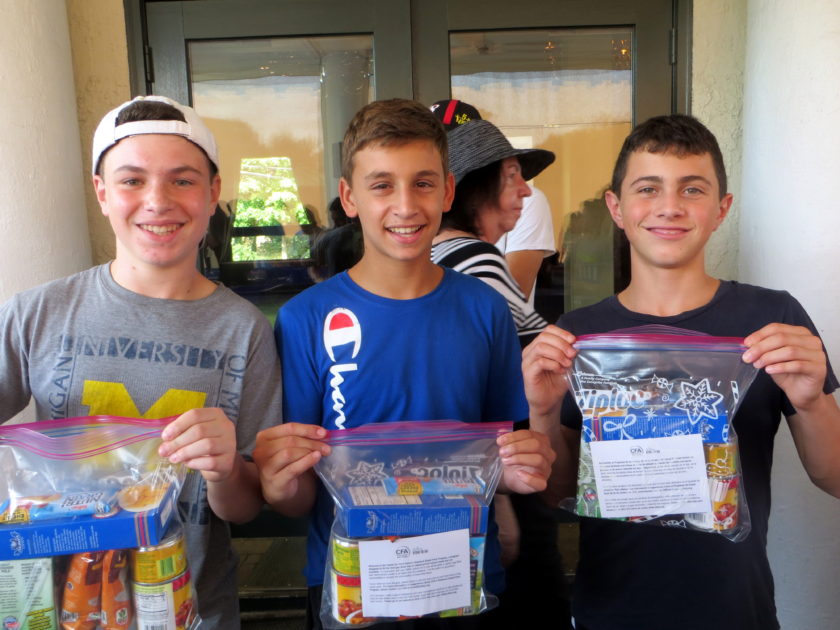 In Paramus, Maxfield was joined by Bergen County Sheriff Anthony Cureton; Dr. Brian Agnew, executive vice president BBC; Patricia Espy, CFA executive director; and "Real Housewives of New Jersey" star Jackie Goldschneider, who has partnered with CFA to help spearhead the new "Get REAL About Hunger" campaign designed to raise awareness of childhood hunger in northern New Jersey.
Speaking at the Englewood CFA event, Maxfield said, "9/11 was the darkest day, and we hope to redirect our sadness to spread light and joy in our community. This is a wonderful opportunity to come out with your family on the National Day of Service and Remembrance."
Many CFA staff members were on hand to help, including Espy, Director of Operations Irwin Vogelman, Director of Communications Kelly Sirimoglu, Regional Site Manager Michele Lefkowitz, Finance Manager Ellen Feld, Special Events Planner Nicole A. Davis, Weekend Snack Pack Program Coordinator Lori Oliff and Volunteer Coordinator Valerie Anderson.
The staff was joined by dozens of eager volunteers of all ages including young children. Some parents brought their children, such as Maxfield, who came with one of her daughters.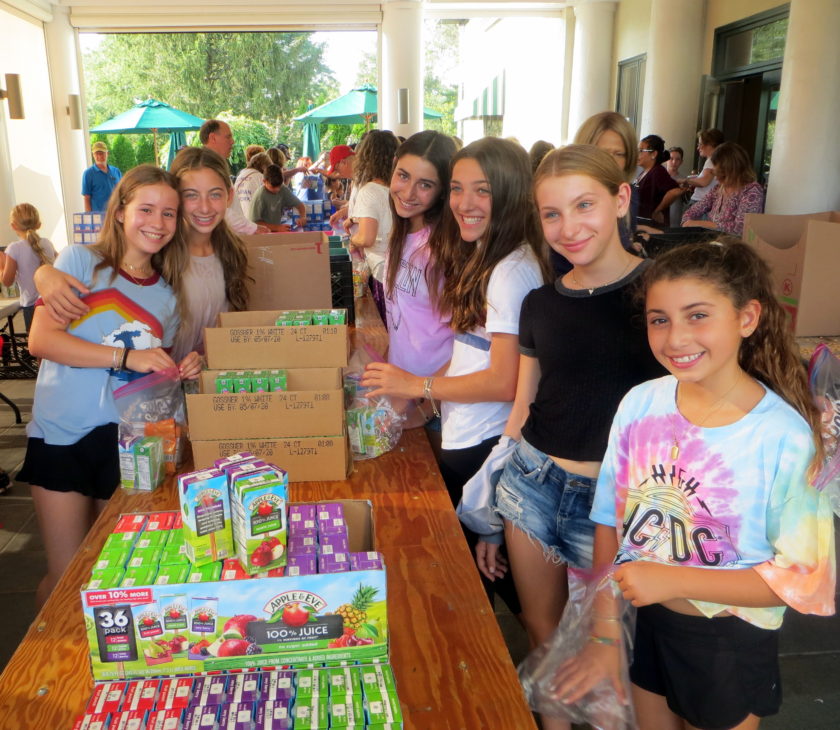 At the Englewood Field Club, Maxfield and Oliff ensured that everything was done efficiently. Specific instructions were given as to the order and placement of each item in the snack packs. They were housed in large plastic bags containing a 100% juice box, a 2% milk box, two individual portions of low sugar cold cereal, a fruit cup, a 7.5 oz. can of mini ravioli, a 7.25 oz. box of macaroni and cheese and a Nutri-Grain snack.
The components of the snack pack were housed in large boxes that had been arranged in six long rows.  Volunteers moved swiftly though the rows picking up and packing each item. Many groups worked together with community camaraderie, such as the large contingency of Englewood Rotary Club members, members of the National Coalition of 100 Black Women and several groups of school friends.
Rabbi David-Seth Kirshner, the senior rabbi from Temple Emanu-El in Closter, packed snacks along with his 12-year-old son.
"What can be better than this? This is truly a mitzvah!"—Hebrew for good deed—he said.
The Center for Food Action's executive director, Espy, agreed that this was, indeed, an event for the greater good.
"Weekend hunger affects thousands of children in northern New Jersey. Thirteen percent of northern New Jersey children experience weekend hunger. Children rely on school meals for breakfast and lunch during the week and miss meals over the weekend. If children are malnourished, it affects every aspect of their life and they can become ill.
"So, CFA began the Weekend Snack Pack Program 10 years ago to help fight weekend hunger and has rallied community support for the program as part of their 9/11 Day of Service and Remembrance events," she said.
Espy has been with CFA for 33 years.
"I love the dedication of our staff and I feel close to the people to whom we provide critical services," Espy said. "I am constantly receiving 'Thank You' letters and calls from recipients, so I know that we really make a difference."
Besides snack packs, Espy is also proud of CFAs other initiatives.
"We provide complete Thanksgiving dinners every year, including fresh turkeys. Last year, a grandmother who is raising three children by herself told me with tears in her eyes that without CFA, she would not have been able to have Thanksgiving with her family."
"One of the things that I like most about CFA," Espy added, "is that many people who have struggled and received our help come back to us as volunteers to pay it forward.  It's a wonderful thing!"
CFA currently works with more than 21 area schools and organizations and distributes over 35,000 Weekend Snack Packs to help children who would normally go without food on the weekend. In the coming years, the organization is looking to expand its help to girls and boys clubs, camps and libraries, with a distribution goal of 40,000.
Center for Food Action, (CFA) is one of the largest emergency food relief agencies in New Jersey. Go to cfanj.org to learn more.