Women's Rights Information Center Honors Community Change Makers
HACKENSACK—On May 7, the Women's Rights Information Center (WRIC) celebrated their 45th year of serving Bergen County with a tribute to "Community Change Makers" at a lavish gala at Morton's Steakhouse at the Riverside Square Mall in Hackensack.
WRIC is an Englewood-based nonprofit dedicated to helping families attain a good quality of life and empowering women to become independent earners and self-sufficient members of the community.
To that end, WRIC provides women with numerous vital services, in areas such as job training, counseling, legal assistance, domestic violence, immigration, ESL classes, housing, and more. WRIC also provides classes and training for men.
WRIC's 45th anniversary event was attended by a record breaking 250 people, including New Jersey Senate Majority Leader Loretta Weinberg and state Assemblywoman Valerie Vainieri Huttle.
The Honorable Ronny Jo Siegel/WRIC board chair got the excitement rolling with a rousing welcome. She thanked the event Co-Chairs Susan Del Rio, Dawn Diaz, Theresa Hazelton, Cathy Pierorazio and WABC-TV New York news anchor Nina Pineda.
WRIC Director, Lil Corcoran, came to the podium and expressed her excitement over the progress the WRIC has made over the years. She thanked the organization's staff, board of directors and volunteers, many of whom were present.
In a dramatic moment, Corcoran exclaimed "WRIC is not just for women. It elevates the community. Research has shown that on the global scale, when women advance in companies and do well economically, so do men. When women rise, we all rise!"
Corcoran praised this year's WRIC honorees, who she called "Community Change Makers"—Erin Chung, Gina Curko, Anna Gassib and Jan and Ernie Sprance.
After her talk, a video was shown on several screens throughout the room that featured an interview with each honoree.
Corcoran gave a brief historical overview of the WRIC that was founded in 1973 as a center for the advocacy of women's rights by dynamic visionary Phoebe Seham.
Corcoran then introduced the evening's emcee, Jen Maxfield, NBC New York anchor and reporter.
Maxfield, a longtime supporter of WRIC began, "I have witnessed how we can all really change lives when we work together and that's evident by the people in this room."
Stories of redemption
A highlight of the evening was a WRIC client speaker, Phoebe Wallace, who recounted her heartbreaking tale of alcohol addiction, a broken marriage, the ordeal of raising four children alone and being homeless four times.
"I had made bad decisions all my life, and at age 53, I woke up and realized that I had put myself in a terrible hole," said Wallace.
When I was referred to the WRIC by a friend, I was living in a foreclosed home and struggling for financial security for my family. I worked part time for Amazon, but I could not afford a babysitter, so I was close to losing my job. Just when I thought it was completely hopeless, the WRIC got me a grant for displaced homemakers that provided for child care. The WRIC also gave me training to better my job prospects.
"Now that I am back on my feet, I go back to the center and mentor other women and I work on a campaign for financial literacy," said Wallace. "So, I want to thank the WRIC for helping me and helping so many others like me. They turn tragedies into successes!"
Following a round of applause, Corcoran embraced Wallace.
"Thank you for having the courage to tell your personal story of survival. Its clients like you who are the heart of the Women's Rights Information Center," Corcoran said.
The evening's honorees
Maxfield then proceeded to bring each honoree to the stage as Corcoran presented them with an engraved crystal award.  They also received New Jersey Senate and Assembly resolutions from Weinberg and Huttle.
Erin Chung is the executive director and founder of Women for Progress Bergen County, which now boasts over 2,000 members. She is an experienced grassroots organizer with a long history of working in advocacy, political campaigns and fundraising. Chung's work includes helping other nonprofits such as WRIC and Covenant House and healing space sexual violence resource center and she serves on the Board of Bergen County's YWCA.
Gina Curko is at the helm of two successful stores, SeeSaw boutique in Tenafly and Fort Lee. Curko takes great pride in being a "sister" to all women in need, helping raise their self-confidence. Curko also donates gift cards to the local schools and outfits students for local fashion shows.
Anna Gassib turned her love of horses and commitment to helping people into a life-changing experience for individuals in need of therapeutic intervention. She left a successful career in finance to become an entrepreneur, equestrian and empowering spirit after recognizing the power of these beautiful and gentle equine animals to heal souls. Gassib works with sexual assault survivors, domestic violence survivors, veterans with PTSD and she has helped people of all walks of life, from the WRIC and elsewhere, turn their lives around though psychological healing from past traumas.
Jan and Ernie Sprance's are passionately committed to WRIC's mission. They teach classes and help clients build resumes and find jobs.  The couple saves the center thousands of dollars by assisting with all the IT, helping with social media and taking on multiple volunteer responsibilities.
After the awards presentation, Liz Corsini, vice president of the Bergen Family Center, gave a rousing "congratulations" to the WRIC for its many milestones. She also mentioned the Building Capital Campaign, emphasizing that the WRIC building on Palisade Avenue has been here for 100 years, but it is now in need of refurbishing, and she asked that people donate to this important project.
Corsini then introduced the last honoree of the evening, Nancy Ferer, who was presented with the Phoebe Seham Award.
Ferer first became involved with the center when WRIC was trying to help daughters of women who were given DES (diesthylstilbetrol, a synthetic estrogen), while they were pregnant. She then began helping with a Women's History Library project, and eventually she started running a Women's Diversity Book Group.  In the late '90s Ferer was asked to join the WRIC Board of Directors based on her leadership work for League of Women Voters, DES Action-New Jersey, American Association of University Women and other organizations. For many years, Ferer served as recording secretary and is an integral Trustee on the Board Governance Committee.  She has also chaired the Community Outreach and Education Committee and served on the Facilities Committee.
In addition to her board roles, Ferer currently volunteers at the WRIC by tutoring people who want help passing the Test Assessing Secondary Completion (TASC) to get their High School Graduate Equivalency Degree (GED) and she continues to hold her well attended monthly book groups.
Throughout the evening, people praised the WRIC, including the honorees. Ferer extolled the organization because, "They do amazing work!"
"You walk into their office and you know immediately that everyone there cares about you," said Gassib.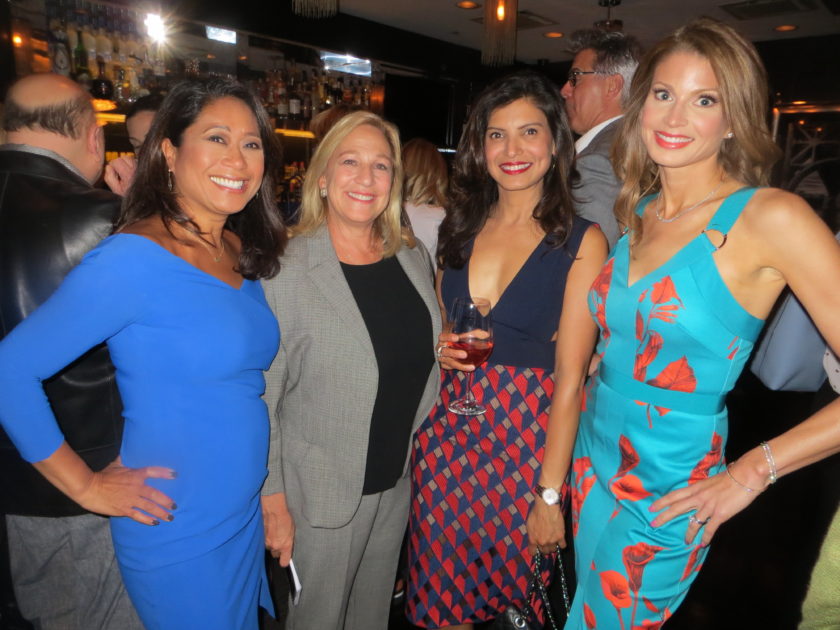 Curko has observed that "When women walk in the door, they feel safe and meet women who can look them in the eye and say, 'We're here to help you.'"
Jan Sprance said "It's a place where women are given hope and help getting back on their feet and supporting their families. I admire all the men and women who come through that door."
Ernie Sprance added, "There are single mothers who are displaced. The first time you meet them they are downtrodden. But, as their relationship with WRIC develops, you see them beam. If it weren't for that white building on Palisade Avenue, who knows where those women would go!"